eNNOUNCER August 2012
USA Wins 3 Gold and 2 Silver at IPhO
Eric Schneider, Allan Sadun, and Kevin Zhou earned gold medals, and Jeffrey Cai and Jeffrey Yan earned silver medals at the 2012 International Physics Olympiad in Estonia. China and Taiwan tied for first place with 5 gold medals, Singapore was second with 4 gold Medals, the USA, Korea, and Russia tied with 3 gold and 2 silver.
          More on the Web
        Main website of the U.S. Physics Team
          History of the physics team, including past winners
          43rd International Physics Olympiad
            Donate to support the 2013 Physics Team
SM12 Physics the Experimental Core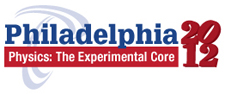 We have just concluded a very exciting meeting in Philadelphia.  The level of energy and exchange of ideas will have a lasting impact on our community.  Whether or not you were able to participate in the meeting you can watch the plenary sessions on UStream. Watch the videos. Congratulations to the award winners and a heartfelt thank you to everyone who contributed to the success of the meeting.  Watch the SM12 website for photo and highlight links.       
Governor Tom Corbett Declares July 29-August 4, 2012 "Physics Education Week" in Pennsylvania
Governor Tom Corbett declared, in an official proclamation, that the week of July 29-August 4, 2012 is "Physics Education Week" in Pennsylvania. In making his proclamation, Governor Corbett recognizes the importance of physics to the global economy and calls upon "...all the residents of this great state to join me encouraging others to learn more about the mother of modern science."  The proclamation also specifically recognizes the American Association of Physics Teachers (AAPT) for supporting the development of effective teaching resources and enrichment programs. Read the proclamation.
Call for AAPT Awards Nominations
Recognize excellence in physics education! The Awards Committee is seeking nominations for all of our awards, citations, and medals. AAPT members are urged to review the descriptions on the AAPT website and then, following instructions, to nominate individuals who should be considered for any of these awards. Nominations remain active for five years.
Physics Department Chairs Conference
Several presentations from the June 8-10 Physics Department Chairs Conference are now available online.
          Topics covered include minority student retention, establishing connections with business and industry, building connections with community colleges, physics curricula for the 21st century, physicists in global R&D careers, and LBGT and other diversity issues.
  See the presentations.
Learning About Teaching Physics
Nuggets that you can use in class tomorrow
        We're getting the physics education research out of those stuffy journals and into your hands (or, rather, ears) with this little audio podcast. Co-hosted by veteran high school physics teacher Michael Fuchs and physicist and education researcher Stephanie Chasteen, each episode investigates a piece of the research literature and how it can relate to your classroom.
---
The Physics Educator
Earlier this year AAPT  introduced an online, members-only site called The Physics Educator (TPE). TPE's mission is to promote interest in and the advancement of physics education at all levels.  At members' request, new features have been added including a rating system, a forum, and more.  Further suggestions are welcome. Login and try it out.
---

Mario Belloni, co-editor of Open Source Physics on ComPADRE, has organized an extensive collection of simulation-based learning resources for the introductory astronomy course. The topics included in the collection range from Naked-Eye Astronomy to Optics, Galaxies, and General Relativity. These materials are built using the Easy Java Simulations modeling environment so that any instructor, or student, can download, open, and edit the simulations to meet their needs. For example, many of these items could be easily modified for use as examples in physics courses. Special recognition goes to Todd Timberlake of Berry College who authored many of the resources in this collection.
          Mario's Introductory Astronomy resource collection is available at http://bit.ly/OM1uIN. Any registered ComPADRE user can create similar collections for personal use or to share with others.
---
Section News
The July 2012 Section News is now online.
To list your section meeting in the AAPT Calendar of Events, e-mail the information to mgardner@aapt.org. See the December 2011 Section News.
---
AAMC to Host Pedagogy Development Site
The American Association of Medical Colleges is expanding its on-line pedagogical resource materials that supports undergraduate science courses for those students preparing for medical schools. Pre-health iCollaborative and on YouTube at
          An important component of the Pre-Health iCollaborative will be a "sandbox" community of curriculum developers. Faculty will be able to post their pedagogical projects (courses, laboratories, problems, ...) on-line and share their work with other faculty.
          Developers will be able to benefit from opening their work to review, recommendations and comments. And other faculty will benefit from an ever-increasing set of resources devoted to the application of their discipline to the life sciences.
          Each of the sciences will have their own editors. The inaugural physics editors are Patrica E. Allen and Juan Burciaga. Faculty wanting to learn more about accessing, and participating in, the physics sandbox should contact the physics editors for more information.
2013 Vernier/NSTA Technology Awards
Vernier Software & Technology and the National Science Teachers Association (NSTA) are now accepting applications for the annual Vernier/NSTA Technology Awards. The 2013 awards program will recognize up to seven educators – including one elementary teacher, two middle school teachers, three high school teachers, and one college-level educator – who promote the innovative use of data-collection technology. Get more information.
President Obama Announces Plans for a New, National Corps to Recognize and Reward Leading Educators in Science, Technology, Engineering, and Math
The Obama Administration has announced the President's plan for the creation of a new, national Science, Technology, Engineering and Math (STEM) Master Teacher Corps comprised of some of the nation's finest educators in STEM subjects. The STEM Master Teacher Corps will begin with 50 exceptional STEM teachers established in 50 sites and will be expanded over 4 years to reach 10,000 Master Teachers.
          Read more.
Back-to-School Discount on Fizz
AAPT is delighted to have secured a 50% back-to-school discount exclusively for its members and their students on Fizz - the story of physics told in a thrilling young adult novel.  According to The Physics Teacher, Fizz "Should be read by young and old. You will love it." and according to ForeWord magazine "Men and women of all ages will be enthralled with these adventures in physics"  Enter code AAPT2OI2 when checking out here (powered by Amazon).
Telstar 50th Anniversary Reunites Innovators at Bell Labs
A NJ Arts News video – Telstar 50th Anniversary Reunites Innovators at Bell Labs –is viewable at www.njartsnews.org and on YouTube at http://youtu.be/4Xv5fOBsNQ0. Watch this remarkable story of innovation and cross-disciplinary teamwork at Bell Labs. Modern telecommunications—built in NJ!
physicsworld.com FREE Webinar
Thursday 16 August 2012, 9:00 a.m. EDT
          This webinar explores the modeling and simulation of electric fields, currents, and changes in dielectrics and conductive media using COMSOL Multiphysics.  Includes a question and answer outline at the end. Read more.       
About eNNOUNCER
AAPT's eNNOUNCER is a service to members of the American Association of Physics Teachers and is produced by the AAPT Executive Office.  Other stories of significance appear in our Announcements Archive and our archive of Press Releases. E-mail suggestions, news items, comments, and unsubscribe requests to: aapt-news@aapt.org.
        Deliverability of this publication depends on your e-mail address being current. If you have recently changed providers, jobs, or schools, please update your profile online at aapt.org as soon as possible. Adding AAPT-News@aapt.org to your address book will also help ensure that your copy is delivered to your mailbox.
Advertising and Archiving
        See our Media Kit for advertising information or email mmormile@aip.org. All eNNOUNCER issues are archived and information about AAPT publications is online.
Note on External Links
Links to non-AAPT sites are intended as a service to readers interested in AAPT, physics, and education. These links do not reflect an endorsement of any content or product. Also, due to the evolving nature of websites, some external links referenced in the eNNOUNCER may expire over time.
Thanks for your readership and your support of AAPT.
© 2012, American Association of Physics Teachers