eNNOUNCER April 2011
2011 Summer Meeting in Omaha, NE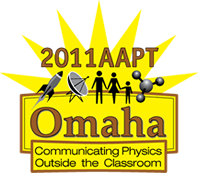 The 2011 AAPT Summer meeting will be held on the campus of Creighton University. At this meeting we will focus on the art (possibly even the science?) of communicating physics outside the classroom.
Early bird Registration is live!
Visit aapt.org for travel information and accommodations.
Pre-Conference Workshop
Using Astronomy to Teach Physics
July 27–30, University of Nebraska, Lincoln
Fifty astronomers and physicists will work together to identify materials derived from astronomy, astrophysics, and space science suitable to use in physics instruction.
Summer Meeting Highlights
July 30 – August 3, Omaha, Nebraska
Workshops
Strategies to Help Women Succeed in Physics Related Professions
This workshop was specifically cited by a 2010 Summer attendee as having provided her the strategy that allowed her to negotiate at 6.4% increase in base pay for her first position after graduating with a BS in physics. Talk about taking your career to the next level!
Teaching Physics for the 1st or 50th Time
Physics Union Mathematics for Middle and High School
Sessions
Don't Put That Phone Away: Personal Electronics in the Classroom
The Big Bang Effect: Representation of Physicists in Popular Culture
The Physics of Sports
Energy and the Environment
Educating the Larger Public about Science: Lessons from Public Institutions
Special Events
Cracker-Barrel—New Methods of Teacher Evaluation
Plenary—Jim Stith, Reaching Out to the Public - A Necessary Dialogue
Plenary—APS Division of Condensed Matter Physics: Frontiers of Nanoscience with Barbara Jones and Jeremy Levy
If you attended the Richtmeyer Lecture in Jacksonville you already saw some of Barbara Jones' amazing images of a quantum corral.
How Safe is your Laser Pointer?
Bring it to the AAPT Summer Meeting in Omaha and visit the PIRA Resource Room to find out. Our expert physics equipment personnel will test your pointer to determine its power. This service will be available from 8 a.m. until 5 p.m. each day of the conference. Check your program guide for the location.
Register for the Summer Meeting Today!
2011 High School Physics Photo Contest
Entries are now being accepted for the popular High School Physics Photo Contest sponsored by Vernier! The contest is open to high school students in grades 9-12 (or equivalent international grade level). Photos may be entered in one of two categories: Natural and Contrived. Submit your entries online today!
Read online
2011 Six Flags America Physics Day
Amusement parks all over the country will open their gates exclusively for physics students! The students have access to one of the world's largest laboratories for carrying out real-world science experiments.
Throughout the day there are opportunities for students to collect data using accelerometers on selected rides, participate in demonstrations, and enter contests for prizes. Read online
Call for Nominations for AAPT Awards
The Awards Committee is seeking nominations for the Oersted Medal, the Richtmyer Memorial Lecture Award, the Melba Newell Phillips Medal, the J. D. Jackson Award for Excellence in Graduate Physics Teaching, and the AAPT Distinguished Service Citation. All AAPT members are urged to review the descriptions of these awards on the AAPT website and then, following instructions available at a link on that website, to nominate individuals deemed worthy of consideration for any of these awards.
The Physics Classroom: Photo Gallery
The Physics Classroom expands with its newest section! The Photo Gallery provides teachers a toolbox of physics-relevant photos from the wealth of photos on Flickr. The Photo Gallery offers teachers three things: access to photos, organized by topic; a collection of nearly 30 galleries; and an invitation to join this exciting project of capturing and sharing physics phenomenon with a camera. Of course, students are welcome to participate as well.
Are You a New Physics Teacher? Could You Use a Little Help?
The AAPT ementoring program is designed to connect pre-college physics educators in need of additional guidance with experienced pre-college physics educators. Learn more at http://ementoring.aapt.org.
ASU Modeling Workshops in Physics, Chemistry, and Physical Science
Six 3-week Modeling Workshops (June 13-July 1, July 5-22) for high school physics, chemistry, and physical science teachers nationwide are offered by Arizona State University in Tempe. Read online
Modeling Workshops Nationwide
Modeling Workshops for high school physics, chemistry, and physical science teachers will be offered in summer 2011 at 26 sites in 20 states. Read online
PERLOC Scholar-in-Residence Program
PERLOC is awarding 6-10 small grants to faculty, postdoc, and graduate student PERTG members for visiting another research group for a period of internship, dialogue, collaboration, training, or the like. This Scholar-in-Residence (SIR) program seeks to assist scholars in crossing institutional boundaries to acquire and share skills and knowledge that promote rigorous physics education research.
To apply, submit a two-page single-spaced request to Andrew Elby via email, elby@umd.edu. The application deadline is April 25, 2011. Read more about PERLOC
Registration Now Open: 2011 Physics Teacher Education Coalition Conference
Plenary speaker: Carl Weiman
The annual Physics Teacher Coalition (PhysTEC) Conference conference will be held May 23-24, 2011 at the AT&T Conference Center in Austin, TX, and will focus on Building Sustainable Teacher Education Programs. It features workshops, panel discussions and presentations by national leaders as well as excellent networking opportunities. This year's conference will be held jointly with the UTeach-NMSI Institute Annual Conference being held May 24-26. PhysTEC conference attendees are invited to attend the UTeach conference at a reduced rate. Learn more and register now.
ALPhA to Offer "Laboratory Immersions"
During the summer of 2011, the Advanced Laboratory Physics Association (ALPhA) will be offering its second slate of "Laboratory Immersions". Last year's inaugural Immersion offerings filled up very quickly, with waiting lists for each site. ALPhA's Laboratory Immersions offer an opportunity for faculty and teaching staff to spend two to three full days, with expert colleagues on hand, learning the details of a single experiment well enough to teach it with confidence. See the listing of workshops.
PKAL's Summer Leadership Institutes
The deadline for PKAL's Summer Leadership Institutes has been extended to Monday, April 11. We are seeking applications from early career STEM faculty members who are thinking about, planning or already leading undergraduate STEM education projects on their campuses. Read online.
Vernier Awards $300,000 in Technology Grants
To celebrate their 30th anniversary, Vernier Software & Technology is offering $10,000 technology grants to 30 schools. The 30 grants will be awarded to ten elementary or middle schools, ten high schools, and ten college or university science departments to honor the important work science teachers do every day. Each grantee will receive $10,000 worth of Vernier technology equipment of their choosing. Read online.
New Award Recognizes Individual Contributions to Public Understanding of Science, celebrates the life of Dr. Paul Shin
The Coalition for the Public Understanding of Science (COPUS) today announced the Paul Shin Memorial Award. The award honors individuals for contributions to the public understanding of science. Nominations for the 2012 Award will open April 15, 2011. Read online.
Need a Great Science Intern?
The AAPT Career Center is now offering a FREE online-only posting to employers recruiting seasonal interns. Get the word out and reach the future of the science community—AAPT's membership, as well as the members and student members of APS, AVS, and the IEEE Computer Society (if a computer-related internship). Your intern posting will also appear on the Physics Today Jobs site. Login to or create your Employer account at http://careers.aapt.org/hr/index.cfm to get started. Free posting valid on 60-day internship postings ONLY. "Internship" Job Level must be selected when posting to access this offer.
Mark Your Calendars for the K–12 STEM Education Policy Conference this July
This is one summer event you will not want to miss. Six leading STEM organizations—including NSTA, the American Chemical Society, the National Council of Teachers of Mathematics, International Technology and Engineering Educators Association, the STEM Education Coalition, and the Hands-On Science Partnership—will be hosting an amazing conference this July 12–13 in Washington DC solely dedicated to STEM education policy. If you are interested in the future of STEM education, and want to make your voice heard, then plan now to join us this summer. Read online. View the agenda.
2011 National Survey on STEM Education
Newly published, the 2011 National Survey on STEM Education is now available to help drive your business strategy for the STEM market. Published by the Institute for Social and Economic Development (ISED). Purchase and download the full report as a pdf file.
A National Meeting on Science Education and Public Outreach
Baltimore, Maryland, July 31 - Aug. 3, 2011
The Astronomical Society of the Pacific (ASP), in partnership with the American Geophysical Union and the Space Telescope Science Institute, is pleased to announce its 2011 national conference, "Connecting People to Science." Read online
FREE Residential Summer Program for Science Teachers
The Physics of Atomic Nuclei (PAN) free residential summer program for science teachers and high school students is now accepting applications for summer 2011. Teachers can earn continuing education credit for this program. The teacher program will run from July 31 – August 5, and students will follow from August 7-12. Applications are due by April 30. Read online
AFCEA STEM Teachers Scholarship
AFCEA has expanded its scholarship program to encourage the teaching of science, technology, engineering and math (STEM) subjects in American middle or secondary schools. They are increasing the number of $5,000 scholarships from 35 last year to at least 50 scholarships that will be awarded this summer for the 2011-2012 school year. In addition to the $5,000 scholarship, each graduating AFCEA STEM Scholar can receive a $1,000 AFCEA Science Teaching Tool grant each year for three years, provided they remain teaching a STEM subject. These grants can be used to fund hardware and software, other classroom tools, field trips, STEM-focused clubs and other activities. Read online
STEM Race to the Top Application Summary
This report summarizes the STEM (Science, Technology, Engineering, Mathematics) initiatives and activities proposed in the Race to the Top applications of the 11 states and the District of Columbia that were awarded the grants. It specifically addresses the three required areas in the STEM priority section of the RTTT application: rigorous courses of study, activities to assist and prepare teachers, and activities on the recruitment of under-represented groups of girls and women. Read and download the PDF online
Was This Issue of eNNOUNCER Useful?
Tell us what you think about this issue of eNNOUNCER.
Take this very short survey.
Join us on Facebook and Twitter
AAPT tweets, posts and discussions are ongoing at these Social Networking links. Join us and stay informed.
About eNNOUNCER
AAPT's eNNOUNCER is a service to members of the American Association of Physics Teachers and is produced by the AAPT National Office. All issues are archived here. Other stories of significance appear in our Announcements Archive and our archive of Press Releases. E-mail suggestions, news items, comments, and unsubscribe requests to: aapt-news@aapt.org.
Deliverability of this publication depends on your e-mail address being current. If you have recently changed providers, jobs, or schools, please update your profile online at aapt.org as soon as possible. Adding AAPT-News@aapt.org to your address book will also help ensure that your copy is delivered to your mailbox.
Note on External Links
Links to non-AAPT sites are intended as a service to readers interested in AAPT, physics, and education. These links do not reflect an endorsement of any content or product. Also, due to the evolving nature of websites, some external links referenced in the eNNOUNCER may expire over time.
Thanks for your readership and your support of AAPT.
Copyright © 2011, American Association of Physics Teachers